ACE Nursing Presentations 2017
ACE visits all nursing cohorts every year, providing a presentation to the nursing students in their final year and providing key information about the ACE application process. Should students not be able to attend this presentation we recommend reviewing the slides which can be downloaded in the resources section of our website. 2017 presentation dates can also be found in the resources section.
The ACE Process
Step 1) First register and create a profile: Candidates are able to register and create a profile for ACE Nursing at any time, even when applications are closed. The information entered into that profile can be amended at any time. So you can update your email address, postal address and contact number so employers always have the most up to date information.
Step 2) Begin application: Once a profile has been created, candidates can begin completing the various aspects of the application (see the brief overview of the application requirements below or the more detailed outline here)
Step 3) Select preferred employers and practice settings: Within the application itself candidates will be asked to rank their most preferred employers and their most preferred practice settings. You can preference a maximum of 3 per intake. You are not able to make changes to your practice settings after applications close. However, you are permitted to change your DHB preferences right up until ACE matches candidates to employers. You will need to email your ACE consultant. Full details about applying to individual practice setting areas can be found under the Vacancy and Position Information section.
Step 4) 4 weeks to complete all components of the ACE application: The application process for ACE relies on the candidate completing every section of their application. Each section will be ticked green once the system recognises that section as complete. For the End of Year 2017 intake applicants have four weeks from 16th August 2017 to 5pm 12th September 2017 to complete this.
Step 4) Ensure overall application status is complete: Applicants must ensure ALL sections are complete and that their checklist reads complete prior to applications closing. To check this, applicants can navigate to the checklist section of their application where their application status (complete or incomplete) will be clearly displayed.
Note: Each section has a 'save' button at the bottom of the page. You can save your progress as you go along and complete your application when convenient. It is important to note that there is no submit button! Provided an applicant's application reads complete at the time applications close they are able to be considered for the next stage of the ACE process.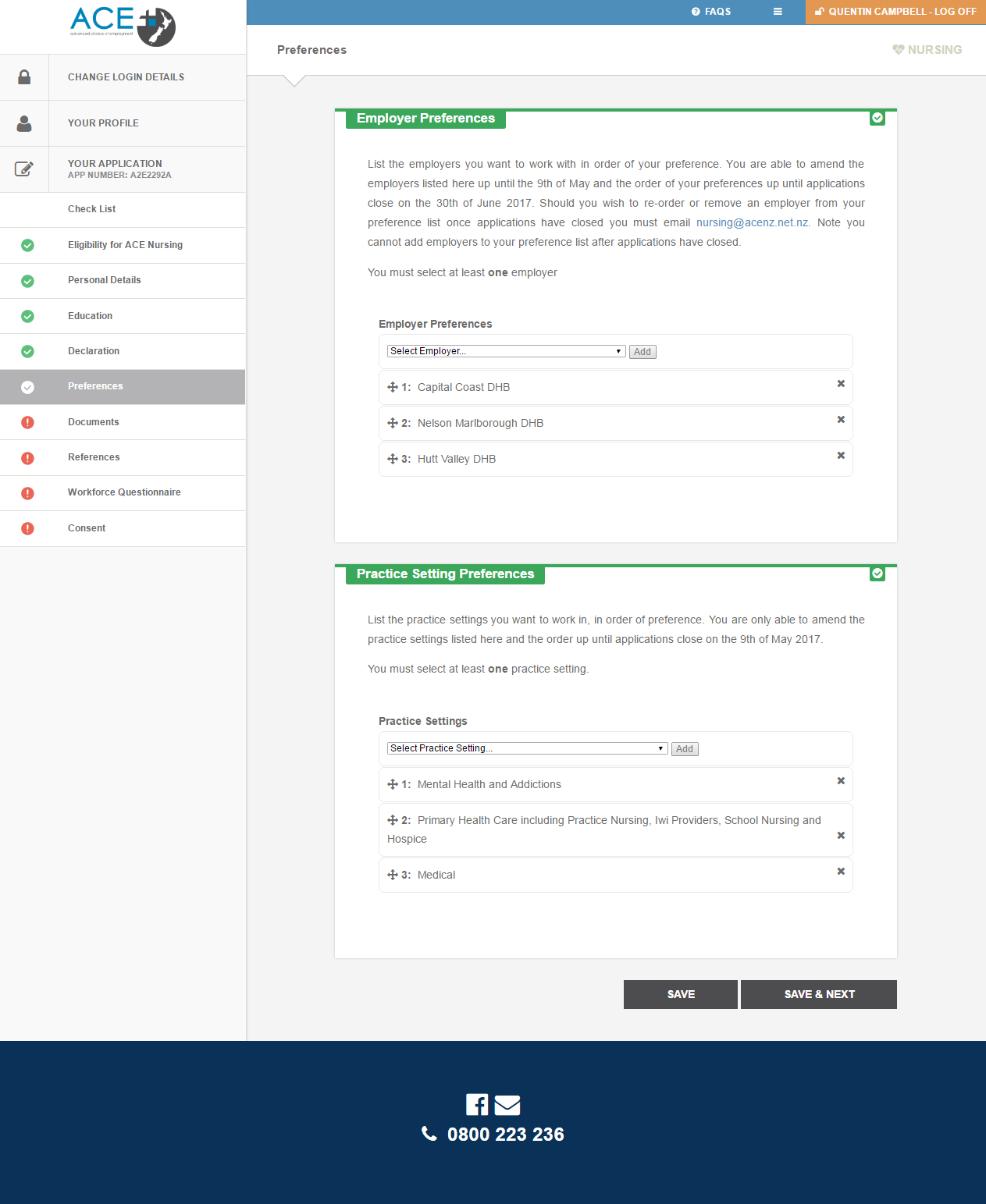 The full details of what you need to provide in your application can be found in the application requirements section however as a brief overview you will need to supply:
Certified identification and residency documents

Two references

Certified or verified academic transcript

CV

Cover Letter(s)

Rankings of your preferred employers (in preference order)

Rankings of your preferred practice setting areas (in preference order)
Re-Applicants
All re-applicants who still meet the eligibility criteria must login to the ACE Nursing website with their existing user name and password. On the right hand panel you will see 'Applications for Nursing are open' start your new application. All re - applicants need to click and commence their application as though applying for the first time.
1 month prior to each intake ACE will send an email to all eligible applicants who have not been employed inviting them to apply. ACE will not automatically upload your previous application, you must log in to your profile to re-apply from August 16th 2017. ACE will transfer key parts of your previous details and documents if and when you re-apply. It is your responsibility to re-apply and complete the rest of your application.
Your previous referee details will be retained in your new application. If you would like to change referee's, you must contact ACE on 0800 223 236. A new reference request with unique ID will be sent to the referee outlining the next steps and the reference due date. Your referee must complete your reference report form by the time applications close.
Your previous certified academic transcript will be uploaded to your new application. If there are additions to your results since you last application, you can upload this new transcript. Note only academic transcripts that meet the requirements outlined in the application requirements section of the site will be able to be attached to your application.
To check the eligibility criteria and the full ACE Nursing process further, please download the End of Year 2017 Applicant Guide in the ACE Resources section.
ACE Assessments
Once applications have closed, ACE will extract all complete applications, audit them to ensure they meet the eligibility criteria and assess them on a set of nationally agreed scoring criteria.
ACE will review the following components as part of this assessment:
References

Correct transcript uploaded

Any scholarships awarded during BN Degree
Interviews and Selection
Employers have 6 weeks to shortlist, interview and rank their graduates. Each employer is entirely responsible for this process in their organisation and each employer may perform this process differently. Be aware that ACE is not involved with this step of the process. As such, any queries relating to this period should be directed to the NETP and NESP coordinators of the employers where applicants have applied to.
Step 1) Employer interviews: Employers interview graduates. Note that each employer runs their own process and interviews may therefore occur at any time throughout the 6 week period.
Step 2) Applicants may re-order their preferred employers if they wish: Based on information applicants receive during their interview, ACE recognises that applicants may wish to change the order in which they have preferenced their employers. Applicants have until Friday 3rd November 2017 before the match is run to change their preferred employers. To do this, you must email ACE (nursing@acenz.net.nz) to request the change.
Step 3) Employers shortlist and rank: Once interviews have been completed, employers shortlist their preferred graduates and rank them in preference order.
Step 4) Employers submit rankings to ACE: At the end of the 6 week period employers must submit to ACE their final list of graduates in ranked order together with their number of NETP and NESP vacancies.
Important:
Employers will use the contact information you provide in your ACE application to contact you for these interviews. Ensure your contact details are kept up to date. Remember, you can update your profile (including your contact details) even when applications have closed by logging into your profile.

When interviewing it is a good idea to discuss with the employer their available specialties and the support offered for new Graduate Nurses, that way applicants can make a more informed decision regarding how best to order their preferred employers.

Employers may manage their time differently during this period. As such, some applicants may be contacted very early in the 6 week process while others may not be contacted until much later in this timeframe. This is not a reflection on the applicant!

Employers may interview differently. Some may hold panel interviews and others may hold one-on-one interviews while larger employers may choose to run an assessment centre to consider all of their applicants.
Algorithm Match
Once employers have submitted their list of preferred NETP and NESP applicants and the number of positions they wish to recruit to, the ACE system conducts a match process, matching graduates selected by employers to one of the graduate's most preferred employers.
The ACE Match operates based on the following principles:
The employer ranking of applicants takes highest priority. This way, the employer's highest ranked applicants have the best chance of being matched to a position.

The applicant's employer preference takes second priority. This way, if an employer prefers an applicant, the algorithm favours the applicant's choice of employer from 1st to 2nd to 3rd.

The algorithm will only match applicants that an employer has ranked for NESP positions to NESP positions and applicants ranked for NETP positions to NETP positions. This way, only applicants that the employers preferred for NESP can be matched to NESP positions. Please note applicants who rank Mental Health and Addictions as their 1st choice practice setting have the best chance of being considered for NESP positions.

Each applicant can only be matched to 1 employer.
Once the match algorithm is complete, the match results are then sent to the individual employers who will send out job offers and subsequently move forward with on-boarding and induction. Those Graduates not successfully matched in the ACE match will go into a talent pool for later consideration for additional places as they arise.
Match outcome released and offers made to successfully matched graduates
On the Wednesday after state final (see 2017 Intake Dates for specific dates) all candidates will be notified by ACE of the outcome of their application.
On the afternoon of the same day, candidates who have been successfully matched will receive an offer directly from the employer they were matched to. Sucessful candidates must notify the employers that they have been matched to (not ACE) either accepting or declining the offer by Wednesday 5pm 29th November 2017. Failure to do so will mean that your offer will be declined and you will be removed from the entire intake.
Applicants who have not been successfully matched will be informed about the next stage of the process and that their application will be included in the ACE Nursing Talent Pool. This Talent Pool is then distributed to all employers, even those that the candidate did not initially apply for. For more information regarding the Talent Pool process, please see the ACE Nursing Talent Pool section.